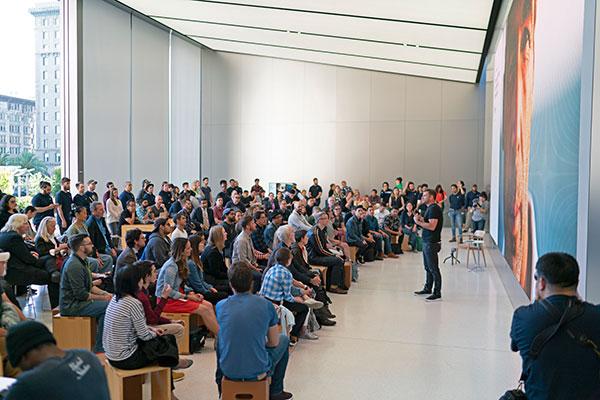 Apple holds workshops to help customers learn and take advantage of their Apple products.
Some of these workshops will teach you how to take and edit photos and videos, create music, draw or paint using an iPad, and even how to use some design and coding apps on your iMac.
These in-store workshops are completely free of charge and are available to anyone - adults and children alike - called Today at Apple.
Click
HERE
to see the schedules of what is happening in the Ottawa area!
Photography - Learn essential photo skills, experiment with portraiture and even break the rules for more artful photos.
Photo Lab for Kids - Fun Family Portraits
Photo Skills - Photography on iPhone
Photo Lab for Teachers - Creating Photo Essays
Photo Skills - Editing Techniques
Photo Walk - Taking Portraits on Location
Video - Explore storytelling secrets and editing magic in fun, immersive sessions that bring your videos to life.
Video Lab - Small Screen Magic Co-created with Zach King
Video Walk - Capturing Cinematic Shots
Video Walk - Manipulating Time
Video Lab for Kids - Making a Movie Trailer
Video Skills - Recording Techniques with iPhone
Music - Discover how easy it is to create music. Go behind the craft of making beats and perfect your sound.
Music Lab for Kids - Making a Theme Song
Music Skills - Drum Patterns with GarageBand
Music Lab - Beat Making Co-created with Swizz Beatz
Music Skills - Getting Started with GarageBand
Music Walk - Creating Soundscapes with GarageBand
Coding & Apps - Write your first line of code. Or start building your app idea. See how fun and easy coding can be.
App Skills - Making an App Prototype with Keynote
App Lab for Teachers - App Design and Prototyping
Coding Lab for Kids - Sphero Robot Obstacle Challenge
Coding Skills - Getting Started with Swift Playgrounds
Art & Design - From design to drawing and painting, unlock new styles and techniques to push your creative expression.
Design Lab - Drawing Treehouses Co-created with Foster + Partners
Art Skills - Sketching Ideas in Notes
Art Lab for Teachers - Sketch Projects
Art Walk - Drawing from Observation
Art Walk - Discovering Colour
Health & Fitness - Explore small, simple changes that can help you stay motivated and reach your health and wellness goals.