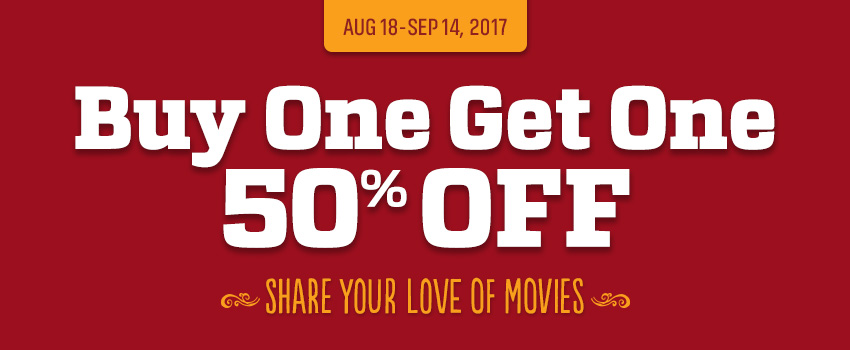 Landmark Cinemas' Buy One Get One 50% Off Event is back!
From August 18 to September 14, 2017 buy one General Admission movie ticket for a August 18 to September 14 movie showtime and get 50% OFF your second ticket, to the same performance, when you enter promo code 50OFF exclusively at landmarkcinemas.com. The BOGO50 offer is not available in theatre.
Bring a friend for half price, or half a friend at full price. Either way, Landmark Cinemas' BOGO50 Event makes enjoying 100% of your favourite movies 50% easier.
Get your instant movie savings with promo code 50OFF exclusively at landmarkcinemas.com, but only until September 14th.
How to get your tickets:
To get your BOGO 50 tickets, visit landmarkcinemas.com between August 18 and September 14, 2017, select your movie showtime and start the online checkout process. In the "Enter Voucher or Promotion Code" field enter 50OFF and select APPLY. The Online BOGO50 package option will appear. Enter the number of BOGO50 packages you would like to purchase. (PLEASE NOTE – 1 Package = 2 tickets.)
Terms and Conditions:
BOGO 50 offer is not valid Tuesdays, Morning Movies or in conjunction with any other discount offer (Movie Twosome, Kid's Day, Senior's Day), Special Engagements or Alternative Content presentations. Valid for August 18 to September 14th movie showtimes only.